Play Now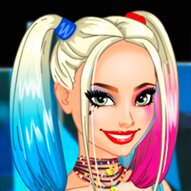 In Tik Tok Princess, let your clothes do the talking. These beauties are about to record some fun little videos and they need to look glamorous to get more views. Can you make sure they look fabulous in these videos?
These 3 gorgeous princesses are about to record a video together. They are famous TikTokers with different styles. But now they're working together to shake up their social media and get more views. Your objective is to help them look awesome in their own way. To start, choose one of the 3 characters and start changing the way they look. Style is the perfect way to say who you are without having to speak. And these 3 have different styles and wardrobes. So, be sure to choose the best shoes, tops, skirts, and accessories to reflect their personality. Style their hair now and even change the hair color to draw more attention. A little bippity boppity boop, and voila! They are now ready for the video. Choose the perfect background let the fun begin! Strike a pose. Now dance. Wow! Rocked it! This will certainly receive positive feedback and allow them to get more followers and likes on their social media accounts. All thanks to you!
Dressing these princesses up and making them all look drop-dead gorgeous was fun, don't you think? Check out our collection of free and online girl games to help our other characters look fancy. Have fun!
Release Date
September 8, 2020
Features
Colorful outfits to choose between
3 princesses to dress up
Fun gameplay
Easy controls
Controls
Use your mouse to play this game.