SmileyWorld Bubble Shooter
Play Now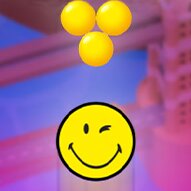 Join the entertaining world of Smileys with SmileyWorld Bubble Shooter! Shoot the identical Smiley groups to pick the item needed and complete the quests Smileys give you! Plan, aim, and shoot carefully to complete the level objectives before you run out of moves! Let's get to know this fun species further!
SmileyWorld is not just a fantastic happy city; it is a lifestyle in which you solve everything by passing the levels of a crazy bubble-shooter masterpiece! That is right; now, you can join the people of this peaceful dreamland and help their folks by completing some bubble-shooting work for them. The rules of this land are very simple. Hungry? Shoot bubbles to get some fish. Unlucky? Shoot bubbles to get four-leave clovers. Need help with an impossible challenge? Pass levels to unlock new features so that you can get some boosters! You can also make repetitive successful moves to fill the smile bar to your right and use it to get a magical shot that destroys every bubble it touches. Collect items by cleaning the areas around them, be careful not to run out of bubble ammo, and pass levels to advance through this happy city!
If you like this addictive game, you can check out our other Bubble Shooter Games! Have fun!
Developer
SmileyWorld developed SmileyWorld Bubble Shooter.
Release Date
September 13, 2022
Features
Positive environment
Cute character design
Boosters and surprise features
Challenging level quests
Available on mobile devices
Controls
You can use your mouse to play this game.