Play Now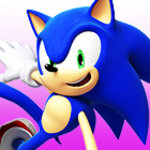 In Sonic, get ready to hit the top speeds as you try to deal with various enemies and obstacles. Filled with different levels and 4 fan-favorite faces as playable characters, this game has everything for Sonic fans and others. Start playing now, because Dr Robotnik won't stop his evil plans!
The fast hedgehog and his friends are ready to defeat the evil doctor, but they need your help. The objective of this game is to complete each level by reaching the end. You can control the characters with the arrow keys. The game features 2 different game modes. The first one is the main mode, and the second one is the time trial mode. In the second mode, you try to complete each level as fast as you can! To play, click on the start game button. Then pick a character and click on start again. Watch out for enemies and try to collect as many gold rings as you can. Enjoy!
Are you looking for more games like this? Why not try our other popular game, Pacxon? Have fun playing!
Features
Colorful 2D graphics
4 different characters that you can use
Intuitive controls
2 different game modes to complete
Multiple levels
Entertaining gameplay
Controls
Use the left and right arrow keys to move around. Press the SPACE BAR key to jump. To spindash, hold the down arrow key, press space and then release the down arrow key. You can pause the game with the enter key.