Play Now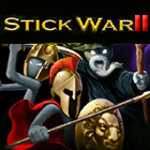 In Stick War 2, different nations are fighting for the domination of the land called Inamorata. Take your place in this war and show your rivals that you're the strongest nation. Send your units to the gates of the enemy, and destroy their defenses to claim victory. Can you become the ultimate power on the map?
The clashing of the swords and the war cries of the soldiers can be heard from miles away. Only the most resourceful side could win this war. Your objective in this game is to win each battle by training units and sending them to destroy the enemy statues. You can play the game with your mouse. On the main menu, you can either pick the offline campaign mode or challenge other players in the online mode. When you start the game, you are located on the left side of the screen. From the bottom of the screen, you can train available units. Create soldiers to attack the enemy and miners to mine gold and gain mana by sending them to praying. Do you have what it takes to defeat all of your enemies?
Check our collection page of free strategy games for more amazing titles like this. Have fun playing our online games for free!
Developer
Stick Page developed Stick War 2.
Features
Colorful 2D graphics
Different units to unlock and train
Campaign and online game modes
Multiple levels to complete
Intuitive controls
Entertaining gameplay
Controls
You can use your mouse to play this game.