Play Now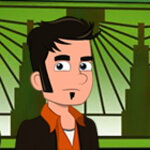 In the Gate Keeper, join Matthew on his spooky and interesting journey. After his grandmother passed away, Matthew took over the family business and became a ghost hunter. Get ready to collect clues and piece the pieces of a puzzle together to solve the mysterious case!
An old hotel is haunted by a ghost of a criminal, and it falls on you to save the day! The objective of this game is to banish the evil spirit from the hotel before they open it for the public. You can play this game with your mouse. Even in death, your grandmother is there to assist you. Follow the clues she left, and collet new ones to overcome various obstacles on your way. Move your mouse around the screen to find an interactable object. As you play the game and solve puzzles, you'll unlock new areas. Keep your eyes peeled and collect everything you can. You'll never know what'll come handy in the next area. You can talk with other characters to gather information about your surroundings and happenings. In the bottom right corner, you can see your inventory. Click on an item and then an interactable object on the screen to use them. Not all items are usable with everything, so try until you figure it out! Good luck!
Challenge your wit as you try to find a way to escape from the mysterious Samsara Room! Have fun playing!
Features
An amazing storyline
Interesting characters
Intuitive controls
Entertaining gameplay
Various puzzles to solve
Controls
You can use your mouse to play this game.