Play Now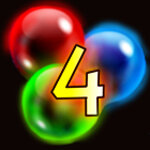 In Touch the Bubbles 4, there are colorful bubbles everywhere, and someone should pop them all! Bubbles are delicate and colorful orbs of fun, and everyone loves them. The best part of playing with them is popping them, and you can do that in this game. Can you pass each level, and clear all of the bubbles?
Featuring two different levels, be prepared to get some bubbles on your hands in this game. Each game mode has its own objective. The first one is the arcade mode where you try to pass as many levels as you can without running out of lives. You earn a high score in this mode. The second mode is the classic mode, which has 30 levels for you to complete. You can play the game with your mouse. Select one of the modes from the main menu to start playing. Click on the start button in the level to begin. Move your mouse around in each level to travel around, and pop the bubbles. Watch out for red obstacles. When you touch them, you'll die and have to start again. You complete the level when you pop all the bubbles. In the top left corner of the screen, you can see your points and score multiplier. As you destroy bubbles, the multiplier goes up. Enjoy!
Up for other challenges? Then go ahead and check our collection page of other free skill games. Have fun playing!
Developer
ProGamix developed Touch the Bubbles 4.
Features
30 different levels to complete
2 different game modes
Intuitive controls
17 different achievements to earn
Entertaining and challenging gameplay
Controls
You can use your mouse to play this game.