Play Now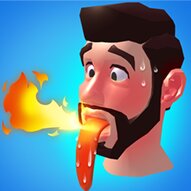 With Lick Them All, get ready for one of the most interesting events of your life! Imagine you have a GF/BF, and they invite you for dessert. You are going to their place and of course, you must eat whatever is cooked. Amazing right? Licking all the cakes, desserts, ice creams, and so on... But what if you face something really disgusting? If you wonder how it would be, then let's click on the play button and start the game!
A table, table full of amazing treats... Isn't it the dream? Of course, it is! You will find delicious desserts and patisseries in this adventure! But you will also see disgusting or dangerous objects like poop, ice, or thorns. What you will do is to lick everything that appears amazing to you! What about the others? Well... You should get your tongue in! If not, you can vomit, break up your lover and find yourself without any life. You must lick the food as if your life depends on it. Choose one of the game modes. Select the Level Mode to challenge yourself and progress in the game. Select the Racing Mode to compete against a rival and show off your skills! Click on the screen to lick. You move faster while your tongue is out. Good luck now and have fun playing!
If you are looking for more interesting and exciting adventures like this one, then be sure to check our collection of free and online 3D games by clicking here and browse more fun titles.
Developer
YAD.Com developed Lick Them All.
Release Date
May 21, 2021
Features
3D colorful graphics
2 game modes select
Several challenging levels
Fun and engaging gameplay
Controls
You can use your mouse or finger to play this game.