Play Now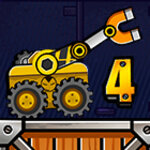 In Truck Loader 4, it's the first day of your job in the warehouse, and you should start loading trucks. Crates, barrels, boxes, and all other kinds of cargo are waiting for you to be loaded. This might seem like a boring job for some, but it has many challenges to overcome. Do you have what it takes to complete all the levels?
Featuring 30 different levels that you can play, this game offers lots of fun! Your objective is to complete each level by placing the cargo on the truck successfully, without getting your vehicle or the cargo destroyed. As you complete levels, you'll unlock more! Use the arrow keys and your mouse to control your vehicle. Each level is filled with puzzles that you need to solve to proceed. Grab the crates with your magnet, and try to place them to the highlighted places with green. Sometimes you have to free the cargo by pushing buttons or pulling levers to activate mechanisms. The faster you complete a level the more points you'll earn. Have fun!
Want some more? Then why not play Truck Loader 3, the previous game of the series by clicking here? Enjoy!
Features
30 different levels
2D graphics
Puzzle-like level designs
Entertaining gameplay
Controls
Use the left and right arrow key or the A and D keys to move around. Press the left mouse button to activate the magnet. Use the up arrow key or either the W key or SPACE BAR to jump.