Play Now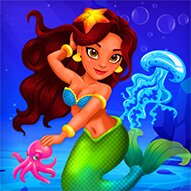 Discover the glamorous lives of the daughters of the ocean and find the differences between their images with Undine Match the Pic! Summer is here, and you still have friends to make! Combining these two facts brings us to your new friends: mermaids! Let's help them solve the mysteries of their photos by finding the differences!
Join a group of mermaid princesses and solve puzzles with your new best friends! Improve your puzzle-solving skills with this underwater adventure! It doesn't matter if you do not know how to swim; we have every type of potion to keep you alive during your discoveries in this blue kingdom of endless waters. So, meet our girls and their pet fishes, and let's solve some mysteries! The girls were surprised to see that the copies of their photos were changed. They were not completely different, but small parts were obviously touched. These parts are what we want you to find and mark. Start with the little blonde mermaid and carefully inspect two images. Click on the parts that do not match. Avoid clicking anywhere else, as that can bring you a time penalty. Keep an eye out for the countdown and complete levels before the time runs out to help the princesses! Good luck!
If you like this fun puzzle, you can check out our other Puzzle Games to find more games like this.
Developer
DL-studio developed Undine Match the Pic.
Release Date
July 28, 2022
Features
Family-friendly
Cute characters and animals
Improving puzzle skills
Bright and interesting colors
Available on mobile devices
Controls
You can use your mouse to play this game.