Play Now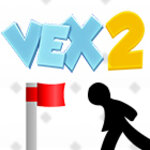 In Vex 2, our stick figure character is back to business, and he needs your help! Featuring new mechanics and challenges, this second game to the popular series will test your agility and reflexes, as it keeps you entertained for hours. If you've enjoyed the first game, then you'll love this second installment! Stretch your muscles, and keep an eye out for traps. One wrong step will cost you your life!
The blades are spinning and spikes are moving. In this world, nowhere is safe! The objective of this game is to complete each level by reaching the green portal at the end. This is not an easy task to do, as each level is filled with various traps and obstacles. But the controls of this game are pretty simple. You can control your character with the arrow keys. To start the game, click on the play button on the main menu. This will take you to the level selection screen. Jump on the level block and press down to enter it. You can play the tutorial to get familiar with the controls and the mechanics. Your character is pretty agile! He can jump from walls, slide, and roll. Avoid traps, activate checkpoints, and try to collect all the hidden golden stars for extra points. Once you complete all the levels, you can create your own by using the stage builder on the main menu. Enjoy!
No need to take a break from the action! Go ahead and try the next game Vex 3, by clicking here. Have fun playing!
Features
30 different achievements to unlock
Colorful 2D graphics
A stage builder to create your own custom levels
Intuitive controls
Entertaining and challenging gameplay
Controls
You can use the arrow keys to play this game.