Play Now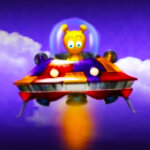 In Yepi's Journey, the cute yellow alien is fascinated with the green and blue planet, Earth. After building a spaceship for his travels, he needs help reaching his destination. With so many dangers and unknown threats lingering in the outer space, can you join Yepi to help him stay safe through all the troubles he'll face?
Are you ready for the launch? Your objective in this game is to reach the Earth through different levels of space. Click on the new game button on the main menu to start the game. In the beginning, even leaving the first level will be challenging, as your ship is not very powerful. But as you play, you can unlock different upgrades that'll make your job easier. There are 16 different upgrades that you can buy with the coins you earn, and each upgrade has various levels. From fuel tank improvements to armor and even radar, you have many options. Watch out for enemies and other obstacles. If you take enough damage, your vehicle will be destroyed. Your fuel is located on the right side of the screen. When you run out of fuel, you'll start to fall. You can collect fuel to replenish your reserves. Have fun playing and good luck!
If you enjoy playing games in this genre, then you should check our collection of free and online skill games by clicking here. Enjoy!
Developer
Ben Olding and Yepi developed Yepi's Journey.
Features
Colorful 2D graphics
16 different upgrades to unlock
Different achievements to complete
Intuitive controls
Various power-ups to collect
Entertaining and addictive gameplay
Controls
Use the SPACE BAR to launch your ship and use your boost. Use the left and right arrow keys to move in either directions.