Play Now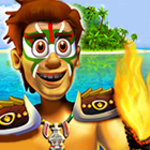 In Youda Survivor, get ready to be deserted on an island and use everything to stay alive. An old legend of the tribe living on the island tells the tale of a foreigner who will arrive someday to keep the tribe safe from every danger. You're that person and it's time to brace the challenges the island will throw at you. Do you have what it takes to survive?
A tropical island would be a great vacation destination but being stranded on one wouldn't be as comfortable. Your objective in this game is to complete each level by completing the different tasks. You can play the game with your mouse. There are dozens of levels to complete, but you start from the first one and unlock the rest one by one. Each level has tasks for you to complete. Dig the grass plots to create wells so it'll attract seagulls. Collect their eggs to cook them or to brew potions. Watch out for pirates! These mean guys will do everything to stop you from achieving your tasks. Fight with them, but keep an eye on your enery and hydration bar. The weather affects your gameplay, so plan your moves and strategy accordingly! You unlock new items as you complete levels. Good luck and have fun!
If you enjoy this genre, then be sure to check our collection of free and online strategy games! Enjoy playing!
Developer
Youda Games developed Youda Survivor.
Features
100 different achievements to earn
Multiple different levels to complete
Different unlockable items
Entertaining and addictive gameplay
Intuitive controls
Controls
You can use your mouse to play this game.