Play Now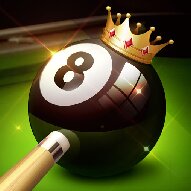 With 8 Ball Pool Challenge, get ready to feel the thrill of the 8-ball pool! You will be locked on the screen for hours of fun. With a realistic billiard theme and 3 difficulty levels, you will find yourself in a real challenge here. The goal is simple. Throw the billiard balls into the holes. If you are ready, chalk your pool cue and get into the game in no time!
This amazing sports simulation game is inviting you to a challenge where you test your aiming skills! With 3 difficulty levels, the game is suitable for all players of all ages. 3D graphics allow you to feel like playing in front of the pool table with real opponents. When the game begins, you should make your shot and spread the balls with the help of the white ball. When you shot one of your balls into the hole, the turn is yours again. At the top of the game screen, you can see the balls that you should shoot through the holes. When there is no ball left belong to you, you will shoot the "8" ball. It is the only black ball. The rules are the same for your opponent as well. If you shoot one of your opponent's balls, it is foul, and your opponent can place the white ball wherever they want. Good luck!
Can't get enough of billiard and look for more? Be sure to check our collection of free and online sports games by clicking here to browse more fun titles like this game.
Developer
Mad Buffer developed 8 Ball Pool Challenge.
Release Date
August 3, 2021
Features
3D colorful graphics
Single player with smooth controls
3 difficulty levels to select
Powerful simulation with accurate ball physics
Controls
You can use your mouse or touch controls to play.