Play Now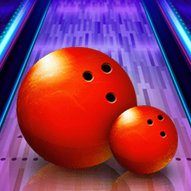 The Bowling Club waits to see its true master! The lights are on and the bowling lounge is full of people. Are you ready to challenge others to a fun bowling game and prove that you're the MVP?
Bowling is one of the best ways to spend your free time and enjoy with friends. But it can also get quite competitive. In this game, your objective is to score more points than your opponent and win each match. You can play the game with your mouse. Just click on the screen and move the cursor towards the pins to release the ball. Adjust your aim and ball speed to throw a strike. A strike makes you earn more coins and you may need some extra coins to buy upgrades. Speaking of upgrades, try to win each match to level up and get coins. You can check the in-game shop to buy power-ups. There are two game modes in the game, a quick match or regular mode. Try to score as many points as you can before the timer ends in a quick match and get a reward. Did you miss all the pins? Bummer! Perhaps you should click the undo button and try again. Or choose the golden ball and show your opponents how it's done! Have fun!
Bowling is fun and all but there are also other sports that you can try in our collection of online sports games. You can check out other sports games by clicking here. Enjoy!
Developer
Developed by Super Appli.
Release Date
June 4, 2019
Features
Golden ball to use
Achievements to earn
Two different game modes
In-game shop to buy upgrades
Fun and addictive gameplay
Controls
Use your mouse to play this game.