Play Now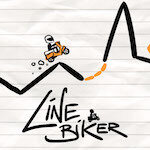 In Line Biker, be prepared to embrace the various challenges this textbook world will throw in your way! Wear your helmet, hold on tight, and accelerate! You might be just a drawing, but who said sketch characters can't be daredevils?
Traveling through these lines is not for the faint of heart, but we're sure you can handle yourself well. Your objective in this game is to complete each level by getting a score as high as you can. You can start the game by clicking on the play button, or by opening the levels menu and picking a level. There are 8 different levels to play, and you can start from the one you want! Though keep in mind that the further levels are more difficult than the first few ones, so it might be best to start from the beginning. To move the bike, click and hold your mouse over the screen, and stop by releasing the button. While in mid-air, you can perform rolls the same way. These give you extra points, but you should be careful! Landing on your face will destroy your bike, so time your stunts well! You can see yellow gems on each level. You can spend these at the in-game shop to buy different motorbike skins. Each cost 200 gems, so try to collect as much as you can to expand your collection!
Brace yourself as you embrace the challenges in our other popular title, Moto MX. Have fun!
Developer
Azerion developed Line Biker.
Release Date
June 2018
Features
Colorful 2D graphics
8 different levels to complete
8 different motorbikes to unlock from the ingame shop
Intuitive controls
Controls
You can use your mouse to play this game.