Play Now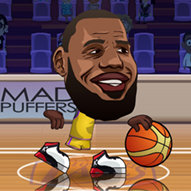 In Basketball Stars, get ready to hit the basketball court and beat your rivals. With your amazing skill and fast moves, you can carry your team to the championship. Do you have what it takes to score lots of points in this game and prove you're the best player around?
The crowd is cheering your name, so you better put up a great performance to keep your fans happy. The objective of this game is simple. You should win every match you play. To start the game, pick either single player or 2 player game modes. In single-player mode, you can try 3 different modes. The first mode is the tournament and you try to become the champion. Another one is the random match mode, and lastly, you have the training mode. When you grab the ball, try to make it to your opponent's side and score a point. The team with the most score at the end of the match wins! Good luck!
After you finish playing this game, be sure to check our other popular title, Basketball.io. Have fun!
Developer
Mad Puffers developed Basketball Stars.
Features
19 different achievements to earn
Can play solo or with another person
A quickmatch mode
2D graphics
Controls
Use either the arrow keys or the WASD keys to move around. You can use both the K and Z keys to perform supershot. When you are the attacker, use the X key to shoot. Double click on either left or right arrow keys to dash that way. While defending, use the X key to steal the ball and the S key or the down arrow key to block the other player.