Play Now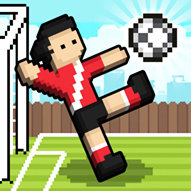 In Soccer Random, get ready to hit the field! You're the ultimate big player for your team and you have a big reputation. Now, the time has come for you to prove it. You can play against your friend if you want or against the CPU alone. Are you ready for the match? Get the ball rolling then!
The life of a footballer is exciting and they're always traveling. The same fate awaits you in this game. You'll travel all the world to showcase your skills in football. Your objective is to score 5 goals before your opponent does. To play, you can use your mouse or the up arrow key. You can choose to play with your friend if you want and see who is the best footballer. When you start playing, it's important to make a plan because you won't be able to move your character around. You can only jump and kick the ball. So, keep your eye on the ball and watch your opponents' movements closely. It may take a while to understand the controls of the game. During that time, try not to score own goals. That would ruin your reputation, don't you think? Each time someone scores a goal, the location and the balls change. You can find yourself on the beach, playing with a beach ball or playing with a football during winter. What are you waiting for? The field is waiting for you.
If you want to check out more games like this one, visit our collection of online sports games by clicking here. Have fun!
Developer
Developed by RHM Interactive.
Release Date
February 28, 2020
Features
2 player game
Different location
Different ball types
Fun gameplay
Controls
Use your mouse or the up arrow key to jump and kick.