Play Now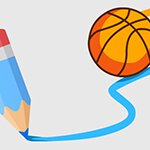 In Basketball Line, it's time to play one of the most popular sports in the world but with a twist! This isn't going to be an ordinary basketball game and you're going to have the most fun in the world! Because art meets sports in this game! You're not only have to prove your drawing skills, but also your prowess in basketball! Are you up for the challenge?
Welcome, sportsman, to the most extraordinary and unforgettable basketball match ever! We don't want you to play with your team or in a court. Its just you, a b-ball, and a pen! Your objective is to draw a line and make sure that the brown ball reaches the basket. You can draw lines by pressing the left mouse button. You have 3 pens and can only draw 3 lines, so you have to limit your artistic genius a bit. Timing is everything in this game, so you should be really careful and stay alert. Beware of the bombs that are falling and try to get all the basketballs in the basket. You'll also see gems around. Try to collect them all to unlock 6 new balls. Get ready then! The pen and the challenge await you! How long do you think it'll take you to beat this game?
So you're a fan of basketball? That's cool! Then you should definitely try other sports and prove you're the best! Check out our collection of free and online sports games to browse more exciting titles like this one!
Developer
Developed by QKY Game Studio.
Features
Intuitive controls
6 brown balls to unlock
Fun gameplay
Colorful 2D graphics
Controls
Press and hold the left mouse button and drag to draw a line.