Play Now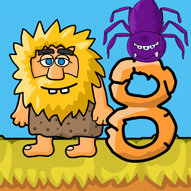 In Adam and Eve 8, Adam needs your help with an urgent matter. He's been kidnapped and locked by an obsessed girlfriend, but Adam wants to be with Eve. Can you help him through multiple puzzle-filled levels and reunite him with his soulmate?
Even dinosaurs and other dangers of prehistoric times couldn't stop Adam, so a locked door and an obsessed girlfriend shouldn't be an issue! Your objective in this game is to help Adam reach Eve through various dangerous and tricky levels. Just like the other titles in this popular series, you can use your mouse to play this game. On each level, you need to clear the way for Adam so he can continue on to the next one. These obstacles are varied, as sometimes you need to move a boulder blocking the path while at other times, you might need to reason with a hungry dinosaur. Each level has various objects that you need to use to remove the obstacles. You should use these items by clicking on them in the correct order. When you think you're done, click on Adam so he can move. If he shrugs, you better look around as that means there's still something blocking his way. Don't make Eve wait! Good luck and have fun!
For more games similar to this, be sure to check our collection of free and online adventure games by clicking here! Enjoy!
Developer
Functu developed Adam and Eve 8.
Release Date
November 23, 2020
Features
Colorful 2D graphics
Multiple puzzle-filled levels to complete
Intuitive controls
Entertaining gameplay
Quirky characters
Controls
You can use your mouse to play this game.