Play Now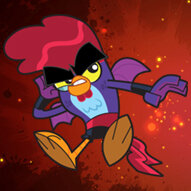 Chuck Chicken Magic Egg invites you to join this chicken and help him save his loved ones. His big bad nemesis has kidnapped all his friends and as the brave chicken he is, he decided to set out on a mission to save them. Are you ready to go and help him?
It's too late to chicken away now! The animals you love depend on you to come and save them. Ruffle your feathers and stand up to your enemies. After all, a chicken does not bow before its enemies. Your objective is to kill all your enemies using the power of your eggs and save your friends. To fire an egg, use your mouse to aim and left click to shoot. Using all these eggs may upset you, but remember, to make omelets, you have to break some eggs! The eggs have the power to ricochet off the walls which allows you to destroy many enemies at once. You'll also see other special eggs as the game progresses. These eggs will give you special abilities to complete the levels. All you need to do is hit them with an egg. Do you think you'll be able to complete all the levels in this game?
Eggs are nice and all but there are other weapons to use in our collection of online shooting games. Check it out now to use them!
Developer
Chuck Chicken Magic Egg is developed by Animasia Studio.
Release Date
January 21, 2019
Features
Entertaining gameplay
Nice 2D graphics
4 chapters to complete
Many levels to play
Controls
You can use your mouse to play this game.