Play Now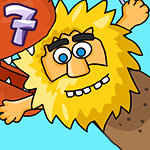 In Adam and Eve 7, it looks like Adam is off to another adventure! In this fun seventh installment of the hit series, Adam was running away from a deadly dinosaur when he realized he got separated from his loved one, Eve. Like the other previous games, it is your job to solve the fun puzzles and make these love birds get back together again. Are you ready to complete all the challenges?
This crazy caveman is jumping from one adventure to another. But this time, there is a big dinosaur in question! Although Eve and Adam started this prehistoric adventure together, our cave people got separated at some point. The objective of this game is to solve all the complex puzzles and make our caveman reach his love at the end. But this journey is full of obstacles and dangerous creatures. To avoid them and complete the levels, you need to click on the objects in the right order. After clicking on the objects lying on the road, don't forget to click on Adam to move him too. If you're stuck, click on the hints button at the left top of the screen. So, will you do your best to reunite this cute couple?
If you want to try another prehistoric adventure of these popular cave people, then be sure to check Adam and Eve: Sleepwalker by clicking here.
Developer
Functu developed this game.
Release Date
February 17, 2020
Features
2D colorful graphics
Multiple levels to complete
Simple control by clicking
Entertaining and addictive gameplay
Controls
You can play this game with your mouse.