Play Now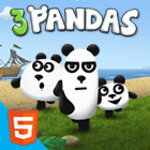 In 3 Pandas, the three brothers were having fun when mean pirates arrive. They captured the brothers, and now these three adventurous pandas need to find a way to escape from them. Join them in their first adventure, and play through dozens of levels to free them.
These pirates are insane to think that they can keep these pandas in captivity. Always managing to get out of trouble, it's time that these brothers show the pirates that you can't be contained in cages. Your objective in this game is to complete each level by taking the pandas to the exit through puzzles and obstacles. You can play the game with your mouse, so click on the play button on the main menu to start. Each panda has a different skill that you need to use to complete levels. Other pandas can climb on the back of the big panda to reach high places, the tall panda can help others to reach down the ledges, and lastly, the tiny panda can be thrown around to otherwise accessible locations. You'll face different puzzles in each level, so be careful and think before you move. You can reset the level from the arrow icon located in the top right corner of the screen. Good luck!
Go ahead and browse our collection of online puzzle games to try more games like this. Have fun playing!
Developer
Flashgames developed 3 Pandas.
Release Date
June 30, 2017
Features
Colorful 2D graphics
Multiple levels filled with various puzzles to solve
Intuitive controls
Entertaining and addictive gameplay
Controls
You can use your mouse to play this game.