Play Now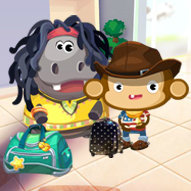 Dr Panda Airport is all in your service to make your journey better than ever! Our cute friends decided to take a vacation and need to go to different locations. As the best airport in the animal world, we gotta make sure they get the best flight experience in their lives. From the first step into the airport to all the way through landing, can you handle the whole process and make sure they have a safe journey?
With its high-quality graphics and 10 mini puzzles, this game is full of fun! In this airport, we have planes that look like pandas and the cutest staff in the world! Can you help us to ensure our customers a safe journey until they reach the destinations? To do so, what you should do is to solve the mini puzzles one by one and complete the process. In those puzzles, you will be stamping the passports at customs, putting the luggage in order, cleaning the panda-shaped planes, finding the hidden objects from the lost items office, and many more. You will even take control of the planes and organize their landings according to their colors! Long story short, you will make the passengers fly in the sky out of happiness! If you are curious about the other adventures in Dr Panda Airport and want to find out, just click on the play button and start it already!
If you want to continue with another adventure as fun as this one, you should definitely check Dreamfields by clicking here.
Developer
Dr. Panda LTD developed Dr. Panda Airport.
Release Date
January 06, 2021
Features
3D high-quality colorful graphics
10 mini puzzles to solve
Cute characters
Fun backstory
Controls
You can use your mouse to play this game.