Play Now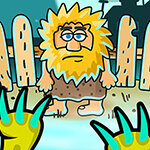 In Adam and Eve: Zombies, get ready to join the brave caveman in his daring journey to defeat zombies! Cats are not easy to handle as they are, and they're even more troublesome as undead. Can you help Adam overcome this zombie feline infestation by making him complete each level without getting caught?
Adam might be a caveman, but his life is so far from being uneventful. In this adventure of this brave character, you have to help him defeat zombie cats! Featuring multiple levels to solve, you should use your wits to solve the puzzles to proceed. Just like in the other games of this popular series, you can play the game with your mouse. On each level, you have to get rid of obstacles and traps on Adam's way so he can move forward. To do that, just click on various objects and items. You have to figure out the correct order of using these items, as you can't use an object behind a locked door before opening it with a key. When you think all is ready, click on Adam. If the way is clear, he'll move. If not, he'll shrug, and you should look for obstacles. We don't know what Adam plans to end this zombie apocalypse, but with you on his side, we're sure he'll achieve it! Have fun and good luck!
Feeling brainy? Then go ahead and try our fun and challenging titles listed nder our collection of free and online puzzle games! Enjoy!
Developer
Functu developed Adam and Eve: Zombies.
Release Date
January 5, 2018
Features
Colorful 2D graphics
Intuitive controls
Entertaining gameplay
Multiple levels to complete
Controls
You can use your mouse to play this game.