Play Now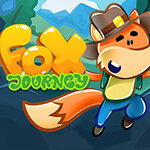 In Mr. Journey Fox, it's up to you to decide where our brave little fox goes! We just can't stop Mr. Adventure. He's always travelling and discovering new places. There's no problem with that but this time he ended up in a maze. Can you help him reach the exit gate in each level?
Everyone has a friend who always ends up in trouble. Our little hero is exactly that person. There's just no stopping him! In this game, your objective is to help our character reach the exit gate safely. You need a key to open the gate so make sure you have it in each level. The tools you can use to move around is in the bottom of the screen. Simply click on the tool you want to use and place it in the perfect place to pass the level. You can use a jumping board and a bubble to get through each level. You can also click on the sign in the right bottom corner of the screen to jump. Timing is really important in this game so be sure to jump at the right time. The place where you put the tools is also crucial because they'll allow you to reach the gems and the key. If you don't like where you put them, you can simply relocate and continue. Try to avoid the obstacles and get through 36 levels. Good luck and enjoy!
People have been going on adventures for as long as you can imagine! You don't believe us? Ask Adam! Play Adam and Eve: Night by clicking here and help this caveman clear his path!
Developer
Developed by Miniduck.
Release Date
March, 2018.
Features
36 levels to complete
Intuitive controls
Fun gameplay
Colorful graphics
Controls
Use your mouse to play this game.