Play Now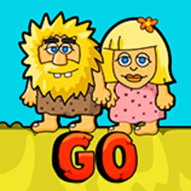 With Adam and Eve Go, get ready for a new adventure of the beloved Adam and Eve adventures series! As you know, true love finds its way all the time despite all the difficulties. Even in prehistoric times, there is nothing Adam cannot do to reach his Eve by overcoming every obstacle. You should help our cute caveman to collect a rose and the fruits to take home. Can you make these two lovers meet again?
Get your brain ready and relax because you're about to experience a long journey full of adventures. In this fun and fresh take on the hit series, Adam is off for an adventure again. But this time, you can actually control Adam with your arrow keys. Your objective in this fun game is to collect the hidden objects, get some fruits for the points, and unlock the locked doors to get to your one true love. But, to impress her, you should also find a rose on your way to the door. Watch out for the obstacles and collect all the extra items. Approach other characters and give them the item they demand to get fruits and keys. Good luck and have fun!
If you want to try another amazing game of the Adam and Eve series, then be sure to check Adam and Eve 7 by clicking here.
Developer
Functu developed this game.
Release Date
April 16, 2020
Features
14 adventures to begin
Different items to collect
Entertaining and addictive gameplay
2D colorful graphics
Controls
The left and right arrow keys to move around, and the up and down arrow keys to climb up and down the ladders.