Play Now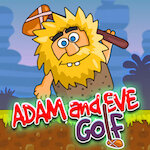 In Adam & Eve: Golf our favorite caveman returns! But this time he has already met the love of his life and he's enjoying the sun and golf! But playing golf all alone isn't fun. Our hero needs some company. Do you think you can be the one who keeps him company and enjoys the day with him?
There isn't much to do in prehistoric times and Adam is starting to get bored. He needs to do something to enjoy himself. And the best way to do that is by playing golf! Who knows, maybe Adam is the one who invented golf! Your objective in this game is to get your ball from the starting point and into the hole. Sounds simple, right? It's the perfect way to test your skills in golf! Press the left mouse button anywhere on the map and hold it. Then drag to release the ball. In this relaxing and fun game, try to get the ball into the hole with as few shots as possible! While you're enjoying golf, animals of all kinds will be there to watch you play! But be careful! Some of them might destroy the balls and some of them may actually help you! Avoid lava at all costs because it burns the ball. Try to collect all 3 stars and earn achievements as you play! Are you up for the challenge?
Did you enjoy playing golf with Adam and want to prove to others what a great sportsman you are? Then be sure to check our online and free sports games to join in on the fun!
Developer
Functu developed Adam & Eve: Golf.
Release Date
July, 2018.
Features
Entertaining Gameplay
48 levels to complete
Achievements to earn
Intuitive controls
Controls
Use your mouse to play this game.