Play Now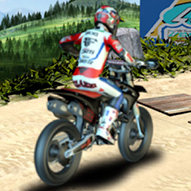 In Moto MX, it's time to bring out your inner daredevil. The roads are yours for the taking and the time has come for you to take the wheel. Do you have what it takes to reach the finish line?
Watching the landscape whizz past and feeling the adrenaline coursing through your veins. Nothing can compare to this. So, wear your helmet and get ready to hit the gas. Your objective is to reach the finish line and perform amazing stunts along the way. To play this game, all you need to do is press the left mouse and hold it button to go faster. But the road is bumpy and there are many obstacles and ramps. So you better hold on tight because this journey will be nothing like you've ever experienced before! You have to pick up speed to perform stunts in the air and to earn points. You can also raise the front of the bike by clicking on the left side of the screen. But be careful and don't crash if you don't want to start from the beginning. You can check out the bar at the top of the screen to see how long the road is and the obstacles that are awaiting you. Go ahead and try to score as many points as you can. Good luck!
Can't get enough of the adrenaline rush, can we? Check our category of online racing games to play similar titles to this one. Have fun!
Developer
Developed by gamebuilt.com
Release Date
March 1, 2019.
Features
Cool graphics
Fast-paced gameplay
Stunts to perform
Intuitive controls
Controls
Use your mouse to play this game.