Play Now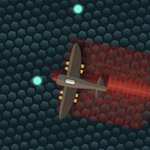 In Airplan.io, get ready to take control of a plane and show other pilots that you're the best! Featuring challenging gameplay and simple controls, do you have what it takes to earn a high score in this competitive and addictive game? The other pilots are already in the sky, so start the engines and join them to prove you're the most talented one of them!
It's a not a bird or Superman, it's a plane! Your objective in this game is to reach the 100% growth and earn as many points as you can. Similar to the other titles under this genre, you'll have to deal with rival characters. You don't need a pilot's license to fly the plane in this game, as your mouse will do the trick. To start the game, click on the play button on the main menu. Your plane will follow your cursor, so move towards to dots to collect them. These will give you points and increase the meter located in the bottom left corner of the screen. As this meter fills up, the trail of your plane gets longer. Clicking and holding your mouse on the screen will increase your speed, but this will empty your meter. Be careful! You should watch out for other planes! If you touch them or the trail behind them, you'll lose. You can track your score from the top of the screen. Have fun!
Check our other fun and competitive titles listed under our collection of free and online .io games, by clicking here!
Features
An endless level
Simple controls
Colorful 2D graphics
Simple gameplay
Controls
Use you mouse to choose your direction. Press the left mouse button to go faster.