Play Now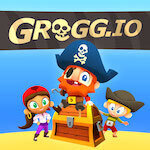 In Grogg.io, get ready to set sail towards the mysterious islands surrounded by seven seas! Never say no to a pirate adventure if you are looking for some excitement. You cannot even imagine all the things you will discover beneath the smooth sand if you dig up a little. Let's start the journey to find more about the deep waters, precious treasures, exotic foods, and delicious drinks behind this adventure!
A pirate life can be dangerous, and fairly difficult. But, in order to be the pirate king, you need to take the hit sometimes! The objective of the game is to sail through various islands and find the hidden items to upgrade your pirate. But things are getting complicated once the other pirates with the same desires come on your way. Before facing them, you need to find as many treasures, coins, fruits, and drinks as possible to upgrade your character. With your earnings, you can buy items like weapons and aliments as power-ups from the shops on the islands. At the right bottom of the screen, you can see the treasure spot and which directions you need to follow to get there. Start the game now and show them who is the pirate king of the seven seas!
Be sure to check our collection of online and free IO games to challenge more opponents and become the best player among them.
Developer
Xform developed this game.
Release Date
July 13, 2018
Features
3D colorful graphics
Challenging the players from all around the world
Various islands to discover
Character upgrading
Controls
WASD keys or arrows to move the character. "E" key to enter. Left click or SPACE BAR to shoot. Right click or ENTER to dig.