Play Now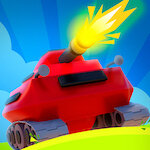 In Tanko.io, the battlefield gets heated and the ground trembles as the tanks move around firing at their enemies. Join the mayhem by picking a team and show you're the best soldier out there. With your enemies persistently trying to reach your base, can you repel and end them by destroying them?
The battle has begun, so you better pick a side and join the fight. The objective of this game is to be the first team to destroy your enemy's base to win the battle. Featuring online multiplayer gameplay mechanics, the danger and fun never end in this game. To start, enter a nickname and click on the "Start Battle" button on the main menu. Next, pick a team to join from 2 different options. Then select one of the 9 different tank types to use, and click on the connect button at the top. When enough players from each team connect to the game, you can start. Use the WASD keys to move around and the mouse to fire and aim. Try to kill as many enemies as you can. This way, you'll level up and grow in size. You can collect different power-ups such as shields too! Good luck and have fun!
Do you enjoy competition? Then be sure to check our other addicting game CarFight.io too! Enjoy!
Developer
Red Eye Production developed Tanko.io.
Release Date
November 8, 2018
Features
Online multiplayer gameplay
Colorful 2D graphics
Different tanks to choose from
Intuitive controls
2 different teams to join
Controls
You can use the WASD keys to move your tank and the mouse to aim and turn. Click on the screen to fire.