Play Now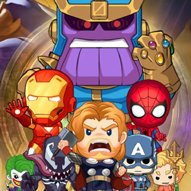 In Superhero.io, you can take control of popular characters in online multiplayer gameplay, and compete against other players. We don't know which one is the most powerful superhero, but if you've been wanting an answer to this question, then start playing now!
From a man with a strong hammer to a guy who can shoot webs from his wrists, there are many different characters in this game. As one of the dot io games, the objective of this game is pretty simple and fun! All you have to do is to become the biggest and most powerful character in the arena and defeat everyone you encounter. You can play the game with your mouse. To start the game, click on the play button on the main menu. At the beginning of the game, there is only one character available. As you gain levels by defeating your rivals and collecting dots, you unlock new characters. When you start the game, move your mouse around the screen to control your character. When you approach an enemy, click on the screen to attack them. Be careful though! They'll also try to kill you! You can see the leaderboard in the top left corner of the screen. Do you have what it takes to become the number 1 player, and dominate the arena?
Competition is fun and exciting! Why not try our wildly popular game Agar.io by clicking here? Have fun!
Developer
Lora Studio developed Superhero.io.
Release Date
June 27, 2019
Features
30 different characters to play with
Colorful 2D graphics
3 different upgrades that you can get
Simple controls
Online multiplayer gameplay
Controls
You can use your mouse to play this game.