Play Now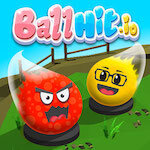 In BallHit.io, get ready to face other players and challenge them. Games with online multiplayer gameplay are competitive, and you shouldn't expect anything less from this title. Take your place in the arena, and try your best to be the last one to stay standing!
The worlds in this game are too small for this many players, so some of them have to go. The main objective of this game is to become the winner by pushing other players off the ledge of the different worlds and be the last one alive. This is a challenging task, but survival is made easy with the simple controls of this game. To start the game, click on the play button on the main menu. Next, change the look of your character, give yourself a name, and even add a second character if you want. The last step is to pick one of the three worlds from below. The fight will begin after the countdown ends. Use the WASD keys to move around, and hit others to try to make them fall. Be careful though! They'll also try to kill you. With each player you defeat, you'll grow in size and become stronger. Good luck!
When you're done, go ahead and play our other popular game CarFight.io by clicking here. Enjoy the competition!
Developer
RHM Interactive developed Ballhit.io.
Release Date
April 19, 2019
Features
16 different characters to choose from
3 different arenas to play in
Online multiplayer gameplay
Intuitive controls
Controls
You can use the WASD keys to control your character.