Play Now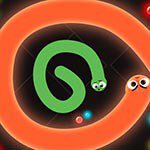 In Silly Snakes, it's time to take control of a hungry snake, and move around the map to eat delicious orbs! With so many other players around, an otherwise calm lunch could turn into a competitive experience. Do you have what it takes to grow to be the biggest and strongest player on the map?
Slither your way to those perfect looking delicious orbs, but be careful! Your objective in this online multiplayer game is to become the biggest snake on the map. Give yourself a name and pick a character skin from 14 different options before you start the game. This game can be played with your mouse. Move your cursor around to make your snake move. Saw a big and nice orb to eat? You fear others will munch on it before you do? Then press the left mouse button to dash. But keep in mind, this will reduce your size. But don't worry, you can earn points and grow in size as you eat. You can track your score from the top left corner of the screen. The leaderboard is located across that, listing the names of the 10 players with the most points. Avoid crashing into other players, as this will kill you. You can kill other players by tricking them into crashing into you! When a player dies, they turn into a cluster of orbs, and these provide lots of points! Good luck!
Into competition? If so, go ahead and play our other popular game Angry Snakes, by clicking here. Have fun!
Developer
webofgrafix developed Silly Snakes.
Release Date
May 29, 2018
Features
14 different character skins
Colorful 2D graphics
Online multiplayer gameplay
Compatitive atmosphere
Controls
Use your mouse to play this game.