Play Now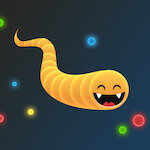 In Happy Snakes, get ready to try to satisfy your hunger! You and the others might have smiling faces and look happy, but the hunger lurks beneath and this drives each snake to look for food. Join the other players in this competitive game, and try to become the biggest snake in the arena!
Slither around, and devour any orbs you see! The objective of this game is not very different from similar titles. All you try to do is to become the biggest snake by eating glowing orbs and be at the top of the scoreboard. You can play this game with your mouse. Before joining others, you can pick a character skin, and adjust the size of the map from the main menu. Then, you can click on the play button to start. Move your mouse around to change the direction of your snake. In the beginning, you'll be tiny but you can grow! Just eat the orbs you see around. If you're lucky, you might encounter a cluster of orbs remaining from a dead player. These give you a big boost. In the top right corner of the screen, you can see the scoreboard. In the bottom left corner, you can see the map and check where you're at. Avoid hitting the tail of other players, as this will kill you. Collect power-ups to gain an advantage, and don't stop eating!
Visit our collection page of online action games for more fun and exciting games like this one. Have fun playing.
Developer
Azerion developed Happy Snakes.
Release Date
November 15, 2018
Features
Colorful 2D graphics
Online multiplayer gameplay
Different character skins to choose
Can adjust the size of the arena
Controls
Use your mouse to play this game.