Play Now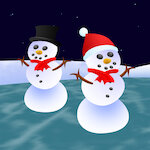 In Snowwars.io, it's time to get into the holiday spirit. Christmas has finally arrived and there's so much to do. You can spend some time with your family, check out the gifts that Santa brought you or have a snowball fight. In this game, we decided to bring you some holiday cheer. So, get your snowballs ready. The fight is about to begin!
Christmas is back in town and the time has come to wait up for Santa Claus. But shouldn't we have some fun while waiting? Your objective is to become the biggest player and throw snowballs at other players. The controls are similar to other .io games. Collect the snowflakes to grow as much as you can and pick up power-ups to be the number one. You can customize your appearance and look fabulous during the fight. You can take down your opponents and collect the snowflakes they leave behind to become the most powerful player in the arena. But be careful. They'll also attack you and with each hit, you'll get weaker. Continue collecting snowflakes to heal and grow. There's no rest until you become the most powerful of them all. After all, big fish always eat small fish. You should still keep your eyes open though. Small fish can always gather to take you down. If you're ready, let the Hunger Games begin!
It's the most wonderful time of the year. And it's obvious you're enjoying yourself. Get ready to rock around the Christmas tree in Christmas Tree Fun to have more fun. Enjoy!
Developer
Developed by Jetti Games.
Release Date
December, 2018.
Features
Online multiplayer gameplay
Character customization
Simple controls
Awesome graphics
Controls
Use left mouse button to shoot.