Play Now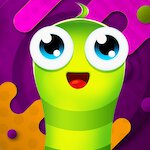 In Worms.io, get ready to join other players in an arena only to become the biggest player around. As part of the dot io genre, the competition never ceases in this game. Slither into the arena, and challenge your opponents to become the biggest player on the map!
If you've played games similar to this, then you'll be familiar with the objective and the gameplay of this game. You try to become the biggest character in the map by eating pellets and collecting points, as you try to avoid getting devoured by other players. You can play the game with your mouse, so click on the play button on the main menu to start. This game features an in-game shop that you can buy dozens of different skins and some skill upgrades. All of these cost coins, but you don't have any in the beginning. To control your character, just move your mouse around on the screen. Collecting colorful dots gives you points, and increases your size. You can kill others too! You have to trick them into crashing into your tail. But be careful! Others will try to eat you too. Sometimes, a boss will appear on the screen. Killing it rewards you lots of points. You can see the leaderboard in the top right corner of the screen and can track both your and others' points on it. Good luck!
Keep eating and defeating your opponents in the other similar game in our collection Slither.io, by clicking here. Enjoy!
Developer
Super Apps developed Worms.io.
Release Date
June 17, 2019
Features
An in-game shop to buy dozens of different skins
3 different skills that you can unlock
Colorful 2D graphics
Online multiplayer gameplay
Controls
You can use your mouse to play this game.