Play Now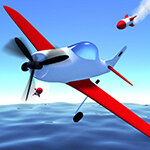 In AirWings.io, become a fighter pilot, and breach the enemy airfield in your aircraft to win the war. The sky may seem endless, but there's not enough space for you and your enemies. Start the engines and take off to destroy your opponents! Are you ready for this action?
You should always keep your eyes on the horizon because who knows where your enemies will strike from? Your objective in this game is to earn a high score by surviving as long as you can. This is a challenging mission to accomplish, but the controls of this game are pretty simple. Click on the play button on the main menu to start the game. Once you start, rockets will start to follow you. You must evade them. Doing this is simple, as you only need to change your aircraft's direction with the left and the right arrow keys. There are 3 ways to earn points. The first one is the time score. By staying alive, you earn points with each passing second. The second one is rocket score. You earn points by evading rockets. Lastly, you can earn points by collecting stars on the map. Your final score is the total of all three of these. Good luck!
For more games like this, don't forget to check our collection of online and free skills games. Have fun!
Developer
restingames.com developed AirWings.io.
Release Date
March 19, 2018
Features
Colorful 3D graphics
Addictive and entertaining gameplay
Intuitive gameplay
Solo gameplay
Controls
You can use the left and the right arrow keys to change the directiomn of your plane to avoid missiles.