Play Now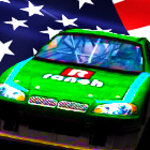 In American Racing, jump into your racing car, start the engines, and floor the gas to leave each one of your opponents behind. Featuring 3D graphics and fast-paced gameplay, get ready for an authentic experience as the cheer of the crowd fill the air. Can you complete each task and become the champion?
Car races are always exciting to watch, but nothing beats being one of the drivers of these fast cars. Your objective in this game is to complete different tasks on each race and finish the race in the first place. Start the game by clicking on the play game button on the main menu. Next, pick one of the schedules races from the calendar. You can get more information about each race by hovering your cursor over them. When you enter a race, a pop-up window will appear and give you your objective. Control your car either with the arrow keys or the WASD keys. Your opponents are very talented and fast! If you're feeling like you're struggling to keep up with them, you can use your speed boost. Check the boost meter from the bottom of the screen and press the SHIFT key to use it for extra speed. Can you complete each race and earn the gold medal?
Check our collection of other amazing online racing games. Have fun playing!
Developer
Longanimals developed American Racing.
Features
14 different achievements to earn
6 different upgradable stats
Can change the color of your car
Intuitive controls
Entertaining gameplay
Different race tracks to try
Controls
Use the arrow keys or the WASD keys to control your car. Press the SHIFT key to use the boost.