Play Now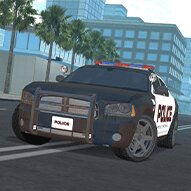 In Police Drift & Stunt, it's time to break all the rules. When you are off duty, there is no one to stop you from doing what you want, not even the other police. Are you ready to drift through the city and perform amazing stunts?
Who says police can't have fun? Now that the streets are empty, you have the chance to race through the streets without a second thought. There are no criminals, no responsibility, and no other police cars to stop you. Your objective in this driving game is simple. You need to drift and perform stunts to earn points and beat your own high score. To control the car, you can either use the WASD keys or arrow keys. The streets are empty so you can floor the gas pedal all you want. To speed up, press the F key. When you are drifting, try not to hit anywhere or you'll lose all your drift points. That's why to slow down, you can press the G key. You will see many ramps, hoops, and other platforms to help you perform amazing drifts that will make the adrenaline rush through your veins. If you want, you can click on the customize menu and pimp your car the way you want to. Have fun!
If you are looking for more games like this one, you can check out our collection of online racing games. Enjoy!
Developer
Fuego! Games developed Police Drift & Stunt.
Release Date
May 17 2021
Features
Different customization options
Endless gameplay
Colorful 3D graphics
Intuitive controls
Controls
You can use the arrow keys to control the police car. Press F to speed up. Press G to slow down.