Play Now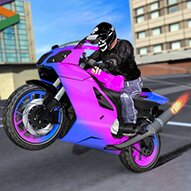 With Sports Bike Racing, get ready to add some thrill to your life! If you are bored with the tranquility, it is time to make some changes. What about getting a motorcycle and perform amazing drifts? Maybe high ramps and dangerous paths? If you are up for all these thrills, you are invited to this fun racing game! Customize your motor, attend to challenges, and enjoy upgrading vehicles to win more races! Let's hit the roads now, shall we?
Get ready to perform amazing stunts and drifts! Congrats! You have a brand-new sports motorcycle. Drive it wisely! Take the roads to discover the whole city. Attend the challenges to collect gems and earn lots of coins! In this exciting driving game, the objective is to complete the levels and upgrade your vehicle for bigger achievements. Select the motorcycle and click on the ride. Use the arrow keys or the WASD keys to control the vehicle. As you perform stunts and drifts, you will earn coins. Collect the gems in the challenges by finding the checkpoints. When you pass through a checkpoint, you can respawn from that point. Use your earnings to unlock new machines and customize them from the in-game shop. Upgrade the vehicle's acceleration, handling, and offroad stats. You can increase your success with more powerful machines, of course! If you are ready for this adventure now, then let the game begin!
Be sure to check our collection of free and online racing games by clicking here to browse more fun titles like this game.
Developer
Great Games developed Sports Bike Racing.
Release Date
August 25, 2021
Features
3D colorful graphics
Checkpoints to pass through
In-game shop to unlock new vehicles, upgrades and customization
Fun and addictive gameplay
Controls
The WASD keys, or the keyboard arrows to move. SPACE BAR for the brake.