Play Now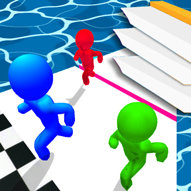 In Wacky Run, it is time to run to death, but without being dead! You have to be able to reach the finish line! But will you able to beat your powerful opponents and reach the finish line? Let's jump in the game and see! Good luck!
The weird race starts again! This time the obstacles were rougher and more dangerous to encounter. Don't be a coward! Be careful with each sprint and catch up with your opponent! If you are ready to beat your opponents, click on the screen to start running. You will control your character with your mouse, hold to make him run, and release to stop. Your aim is to reach the finish line before your opponents, but there are some obstacles avoiding you to move on. Be careful about the obstacles, they can cause your death! If you hit them and cannot stand up again, your opponents may get ahead of you! As you proceed with the game, the obstacles will be different to stop you from going on the race. Don't forget! You have 20 levels to pass! If you click on the screen at the right time, you can succeed to reach the end. Wait for it is safe again before going on running. Good luck!
If you want to play more racing games, and try another one similar to Wacky Run, then be sure to check Shift Run, too.
Developer
bestgames.com developed Wacky Run.
Release Date
January 29, 2021
Features
3D colorful graphics
20 levels to pass
Challenging gameplay
Intuitive controls
Controls
You can use your mouse to play this game.