Play Now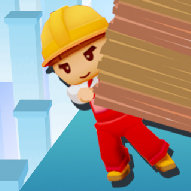 In Brick Surfer, get ready we're going surfing! But this is not your ordinary surf! We will do brick surfing this time! Haven't you heard of it before? Then follow us and start the game to find out! Have fun!
You are somehow found yourself on a very dangerous road, and there are only some bricks on the road that you can use for moving on your way. So, if you are ready to see what this game is like, you can start the game by clicking on the screen. Your objective in this game is to move on your way by collecting the bricks, you will use them to step on for not to fall down while jumping between the lands. The more bricks you collect, the more diamonds you will get. The game will be getting harder as you proceed with it, and you will 20 levels to pass. To control your character, you should use your mouse, simply drag it to left and right. When you come to the end of the road, you will need to jump as far as you can by quick clicking. The farther you jump, the more points you earn! You can follow your progress from the top of the screen during the run. Are you ready to collect some bricks and jump into an adventure? Have fun!
If you liked Brick Surfer, check our collection of free and online racing games by clicking here!
Developer
YAD.Com developed Brick Surfer.
Release Date
January 22, 2021
Features
3D colorful graphics
Entertaining gameplay
Various levels to pass
Single player game
Controls
You can use your mouse to play this game.