Play Now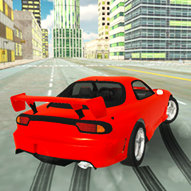 In RX7 Drift 3D, you are in an empty city without the traffic or city noise with your cool car! All you need is to select your car and your body kit! Jump in the car and fasten your seatbelt!
Driving is a very enjoyable activity, especially in an empty city. All inhabitants left the city for you to drift freely! You are the only one around. To start enjoying, you should customize your car. First, you need to select your car's color out of the amazing color choices, you can also change its body! When you feel that your car is ready, you can take the road! You will be provided many more modification options once you enter the game, such as aftermarket wheels, as well as full suspension and engine modifications. Use your WASD or arrow keys to control the car and use the spacebar for hand breaks while turning the sharp crossroads. There are no levels to pass in this game! You can also change the camera angle with the C key if you want more action while driving! Enjoy the most amazing simulator game ever!
Do you trust your skills at cars games? If so, take the different challenges in our collection of free and online cars games.
Developer
Smartline-Games developed RX7 Drift 3D.
Release Date
November 25, 2019
Features
Intuitive gameplay
3D graphics
Car customization
No levels to pass
Controls
You can use the WASD or the arrow keys to drive and the space bar to use the handbrakes. To switch the camera, press the C key, and to turn on your lights, press the L key.