Play Now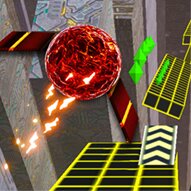 Two Ball 3D Dark invites you to the most fascinating and dark 3D ball adventure! Here, you must survive no matter what it costs! You can invite someone over and see who the real survivor in this futuristic world will be. It won't matter if that person who is gonna play with you is your best friend or sibling, they will be your biggest opponent once you enter the game. You are on your own now. Let's see how far you can go!
It is only a matter of time for you to get into this dark world now. From the very top of the high building and futuristic background, you'll find yourself in the real challenge of survival. Featuring 3D graphics and an exciting theme, you'll be locked in front of the screen for hours of fun. Your objective is to go as far as you can by avoiding the obstacles and following the path. There are two game modes that you can choose as 1 Player mode and 2 Player mode. When you choose the 2 Player mode, the screen will be separated in half. As you complete the levels and pass your score, you'll gain gems that you can use to upgrade the stats of your ball. You can also buy new skins to add more fun to the game! If you are ready now, let the competition begins!
Don't forget to check our collection of free and online racing games to challenge your friends or siblings in other exciting adventures like this one.
Developer
RHM Interactive developed Two Ball 3D Dark.
Release Date
May 4, 2021
Features
3D colorful graphics
3 stats to upgrade
Various skins to unlock from the in-game shop
Fun and engaging two-player game
Controls
Player 1: The arrows, Player 2: WASD keys to control the balls.