Drop Guys: Knockout Tournament
Play Now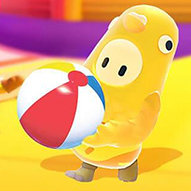 In Drop Guys: Knockout Tournament, welcome to a colorful world filled with excitement, adventure and fun. When we say all this, we are not lying. You are about to become a chick and participate in a race to emerge as the winner. Enter this mesmerizing world and let's show everyone the power of chicks! Are you ready to see if you can win this competition?
We know everything looks so peaceful, cute and colorful. But beware! This is all a facade. This world may look nice and the clouds may be pink and all, but it is filled with obstacles. And don't even get us started on the chicks. They may look cute, but they are willing to do anything to win. Are you ready to become a chick yourself and see if you have what it takes to win? Your objective is simple. You need to reach the finish line before all the other players do. There are 16 chicks, and you are one of them, but only one of you will be the winner. To be the first one to reach the finish line, you need to overcome all the obstacles that are waiting for you on the road. Only 8 of you who finish the race first will be given the right to see the next levels. You can use the money you earn to buy new characters. Have fun and good luck!
Looking for another game like this one? Then you are more than welcome to check out Fall Race Season 2 by clicking here. Enjoy!
Developer
YAD.Com developed Drop Guys: Knockout Tournament.
Release Date
February 16, 2021
Features
Online multiplayer gameplay
Colorful 3D graphics
New skins to buy
Many different maps
Controls
You can use the arrow keys or WASD keys to control your character. Use the space bar to jump.