Play Now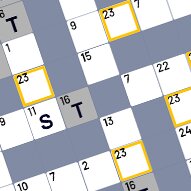 In Arkadium's Codeword, it is time to challenge your word knowledge? How many English words do you know? Can you put the letters in the correct places to build a word? It may sound easy at first, but this puzzle game is exactly for crossword lovers who like challenges. It is suitable for all players of all ages. If you want to be challenged right now, clear your mind and start the game!
Are you familiar with the codeword game? If not, let us explain it to you a little. The codewords are crosswords without clues. The letters are being replaced by numbers. The numbers represent a letter. When you fill number five, for example, you fill all the 5s with the same letter. The objective of this word puzzle game is to complete the words by placing the letters. When you start the game, some of the letters will be replaced automatically. You can either click on the squares or select a letter. You can type the entire word if you want. When you select a square, the square will be framed in yellow. All the other squares with the same number will be filled in automatically. You can use the hint button from the right top of the screen if you get stuck. The selected number will you the letter for the whole puzzle. You can also go back to default by clicking on the restore button. Have fun playing!
Don't forget to check our collection of free and online puzzle games by clicking here to browse other word puzzles and many more!
Developer
Arkadium developed Arkadium's Codeword.
Release Date
September, 2021
Features
Entertaining gameplay
Easy controls
Challenging gameplay
Daily challenges
Controls
You can use your mouse to play this game.