Play Now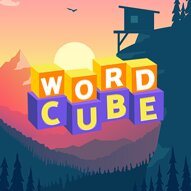 Word Cube Online is a fantastic puzzle game that can be enjoyed by players of all ages. With four different game modes to choose from, you can test your word knowledge while still having a good time! To show off your abilities, practice in the offline mode, collect coins and challenge other players. Let's see how far you can go if you're ready to jump into the realm of words right now!
Welcome to one of the most incredible online word games available, where you may compete against gamers from all around the world! With four different game types and a global leaderboard, the game will have you hooked to your screen for hours. The first mode is the challenge mode, which requires you to give away 500 coins in order to participate. The goal is to make as many words as possible in the time given. The second mode is versus, which puts you against a complete stranger! The round is won by the one who has the most points. The third mode is offline, in which you can win more money by creating words before the timer runs out. Last but not least, there's a play with friend mode where you may challenge a friend and see how well you know words! Have fun!
Do you want to play more games like this one? If so, take the different challenges in our collection of free and online puzzle games.
Developer
Agame developed Word Cube.
Release Date
July 26, 2021
Features
2D colorful graphics
4 game modes to enjoy
In-game shop for purchasing
Fun and engaging gameplay
Controls
You can use your mouse or finger to play this game.