Play Now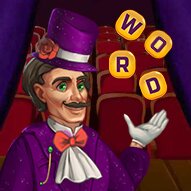 In Circus Words, it's time to train your brain and become the vocabulary master! Featuring colorful graphics and fun gameplay, you won't be able to leave this game! Are you ready to challenge yourself and test your vocabulary knowledge? Have fun!
It's time to discover mystery hidden words and build as many words as possible! In this game, you can test your vocabulary, discover new words, and strengthen your brain. This game has a lot of levels to complete, so let's get started right now. Your goal is to find new words by matching letters. Each level may need you to find 3-lettered, 4-lettered, or even 5-lettered words. To make a line, click on one of the letters and drag the mouse pointer to the other letters. Release the mouse when you're certain it's correct to check if your answer is correct. One of the letters may be visible sometimes, making it easier to find the word. As the game progresses, you will be required to complete more difficult levels. If you get stuck, use the hint button, which will show a letter. Complete each level to earn more money, which you can then use to purchase additional hints. You'll earn stars for completing each level, which you may use to unlock more fantastic places. Discover new planets and circuses while also improving yourself. Have fun!
Do you want to play more games like this one? If so, take the different challenges in our collection of free and online puzzle games.
Developer
Clever Apps Pte. Ltd. developed Circus Words.
Release Date
June 14, 2021
Features
Different difficulty levels
Fun and challenging gameplay
Intuitive controls
2D graphics
Controls
You can use your mouse to play this game.