Play Now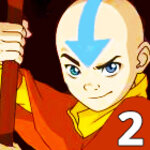 In Avatar Fortress Fight 2, the three nations having a war, and you should pick a side to join. Air nomads are long gone, but the remaining fire, water, and earth nations are here. Play alone or against a friend, and try your best to win each fight you take part in. Can you prove you're the most powerful bender by defeating your opponents?
Join Zuko, Aang, or Katara in this game to carry your nation to victory. Your objective is very simple! All you have to do is to win each fight by destroying your opponent's fortress with the use of your bending powers and weapons! Each nation has 3 bending powers that act as power-ups and boosts, and 4 weapons. Start the game by choosing either a solo or a 2-player mode. When you begin, you can pick a bending power first, or skip this step if you like. Then, pick a weapon, and use your mouse to adjust the aim and the power of your shot. You can see the health bars on the bottom sides of the screen. When you use a weapon, try to collect different boost tokens. These can improve the strength of your attack. After each successful fight, you can repair your buildings and buy more ammo with the coins you earned. Good luck and have fun playing!
If you enjoy this game genre, then be sure to check our other game Tower Defense by clicking here. Enjoy!
Features
Colorful 2D graphics
3 different nations to select
Different attacks and power-ups
Both solo and 2-player game modes
Entertaining gameplay
Controls
You can use your mouse to play this game.